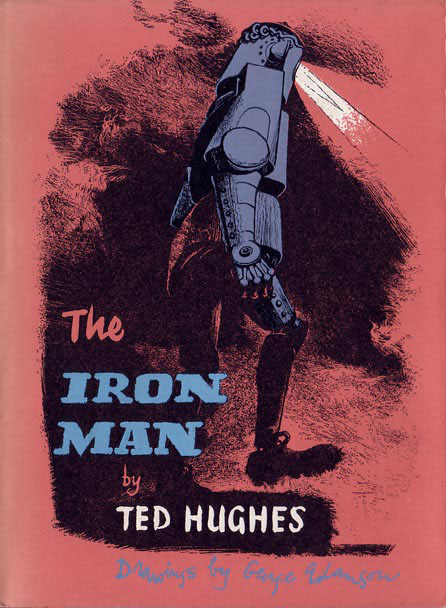 The Iron Man
According to his diary Adamson began work on his five drawings for The Iron Man in early July 1967, sending the finished artwork and mock-up for the jacket to David Bland at Faber and Faber on 17 July 1967. The artwork for the jacket was finished on 5 September 1967 and sent to Berthold Wolpe at Faber's the following day. That very day he had a cartoon about the forthcoming Conservative Party Conference in Brighton published in the Daily Telegraph (no. 34949, p. 14) and his atmospheric painting of love-in-a-mist graced that week's cover of Punch (vol. 253, no. 6626).

The book was published in hardback with Adamson's dust-wrapper on 26 February 1968 and the paperback edition with Adamson's jacket design modified slightly on 11 October 1971.1 Foreign editions of The Iron Man with Adamson's drawings were later published: Sandra Giorgini's translation into Italian was brought out by Rizzoli in 1977; and in 1980 the Tokyo publisher Shinozaki Shorin issued the book as an 'English language textbook with Japanese annotations' by Yuuichi Hashimoto.

Ted Hughes's tale was to be illustrated by other artists. New Faber editions came out: in 1985 with illustrations by Andrew Davidson and in 2005 with drawings by Tom Gauld. Then Walker Books in collaboration with Faber's brought out a new edition in 2010 illustrated by Laura Carlin.

The first American edition, with the title The Iron Giant, was published by Harper & Row on 23 October 1968 and illustrated by Robert Nadler (1934–1997) and from the same house with drawings by Dirk Zimmer (1943–2008) in 1988; in 1999 an edition with the same title came out with Alfred A. Knopf featuring the illustrations of Andrew Davidson.

Nevertheless, as Dr Matthew Eve, Guest Curator of the British Library exhibition Picture This: Children's Illustrated Classics, writes: ''For many, Adamson's drawings for The Iron Man (1968) are still the definitive illustrations.'

Note
1 According to Keith Sagar and Stephen Tabor in their book Ted Hughes: A Bibliography 1946–1980 (pp. 34–7), the first printing of the cloth edition was 6,000 copies, followed by reprints in 1969 (4,000 copies), 1971 (5,000 copies), 1973 (10,000 copies), and 1976 (10,850 copies). Of the first paperback edition 25,000 copies were printed in 1971, 15,000 in 1972, 25,000 in 1973, 25,000 in 1975 and 50,000 in 1977.